February 26th, 2015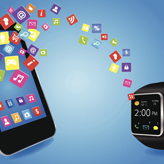 You've been for your morning run while wearing a watch that checks your heart rate. You pop on your Google Glass headset to check the morning's emails, and the chain hanging around your neck begins to vibrate with an incoming text message. Even if you are not the world's biggest wearable tech user at the moment, this is a big trend and one that's here to stay. Having productivity boosting technology attached to your person can make you more effective in your business and personal life than you imagined. Yet many consider Google Glass to have been something of a flop, and the Apple Watch could be headed for slow consumer take-up - here's why you shouldn't go throwing caution to the wind when it's released.
The battery dwindles all too quickly
Much like your smartphone - perhaps even more so, in fact - if you buy yourself an Apple Watch then it's likely you will want it to travel with you everywhere. That means it's going to be on your wrist, in use and burning through its battery charge, for a good portion of the day. It might not be running at full capacity the whole time, but it's unlikely to be on complete standby either. You might use it to check the time, the weather, your e-mails. It might sound an alarm when you need to leave the office for a client meeting, display your fitness regime progress at a glance, or help you find directions to the convention you're attending tomorrow morning.
Read more.